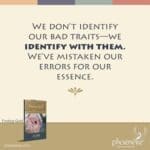 When we're in a bad space with rock-bottom self-esteem, we tend to compound the error of feeling unacceptable, destructive or negative with thinking things are fixed—and this is the way it's always going to be. But in reality, life is fluid. We're alive, ergo, we're fluid. But through our ignorance of this truth, we enclose ourselves in rigid enclosures, trapped in a box where we think we must stay forever. And we can, in fact, stay in our own prison for a very long time.
So we need to ask: Where do I feel hopeless? Why? Because I think the possibilities of life are too limited? Because I don't deserve a more meaningful life experience? This last one often smolders underneath our life-limiting beliefs.
So then we go on: Am I hopeless about deserving more because I, perhaps justifiably, dislike certain traits in me? Now look at how we may also believe these traits define us. Hello. We have come to erroneously believe that the most obnoxious thing about us, is us. And yet, at the same time, this is what we don't want to change.
Because in our heart of hearts, we don't believe we can essentially be anything other than that which we dislike. So we hold onto these things. Otherwise, we would cease to exist. Dang. That's the crux of the matter. This is why we hold onto destructive traits. And if we see ourselves doing this, we may despair even more. We can't help it. We don't understand what motivates us to hold on, almost deliberately, to what we hate in ourselves.
OK, so that's the answer to why we do this. We hold on because we genuinely believe that's who we are. We don't identify the bad traits—we identify with them. And we think we are in a fixed state, so change is impossible. We have forgotten that all possibilities exist in us. By our very nature, we are already that which we believe would take great labor to produce. We've mistaken our errors for our essence.
This is a trap. Self-esteem can only come along if we can sense our capacity to love, to give. But we can't feel this if we take it for granted that such a capacity doesn't exist—if we believe we are fixed in the state we are now expressing. Our real loving self then seems alien to us.
Listen and learn more.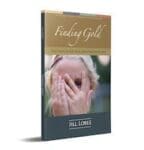 Finding Gold, Chapter 11: Self-Esteem