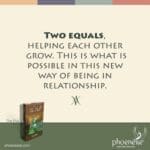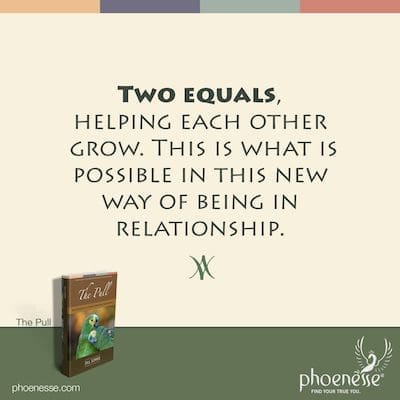 Fulfillment rests on a true state of equality. The minute someone feels superior over the other, the heart-gate slams shut. Respect evaporates. And the moment one feels inferior to the other, fear and envy and resentment will bar the door to love.
The new woman is neither slave nor competitor. So she can love and her love will only enhance her creative self-expression. Then her creative contribution to life will expand her capacity for loving. And the wheel goes round and round.
The new man won't be shopping for a weaker mate. He'll meet his own weakness squarely, facing it and regaining his real strength. He'll see how his weakness comes from guilt and the way he rejects himself whenever he denies the best in himself. He doesn't need anyone to slave over; he can feel good by activating his own integrity.
He's not threatened by equality. He doesn't need to be with someone who is inferior to convince himself of his own acceptability—which never worked anyways. He'll face his weaknesses and gain so much more strength. He'll value a relationship with a woman who is truly his equal—who is as creative, morally strong and as intelligent as he is. When he stops needing to play the master, he will be able to open his heart and experience a fulfillment that was flat-out impossible before.
What before operated as vicious circles will now move in benign circles that build love. With nothing to fear, both the self-actualizing man and woman will be able open their channels of feelings and feel a sense of gratitude toward each other. Two equals, helping each other grow. This is what is possible in this new way of being in relationship.
Listen and learn more.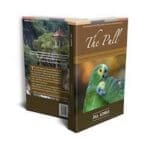 The Pull, Chapter 13: The New Man and the New Woman
Read Original Pathwork® Lecture: #229 Woman and Man in the New Age