Notice though that our reluctance to deep loving communication goes beyond our fear of suffering and being hurt or disappointed. In fact, there are three further aspects we need to become aware of for why we say No to loving. Each of these three aspects that prevent loving can be found in most of us. But we may have a favorite that is more predominant. If none of them seem to apply to us, we need to look again and closely watch our emotional reactions. We're bound to find that one or the other or all three apply.
The first aspect is a fear that we will be forced to do something we don't want to do. We're afraid we'll be asked to sacrifice something that we have no desire to give up, or to give in when it's inconvenient or of no advantage to us. We believe we must curb our natural feelings to safeguard against the excessive demands of the other. And that's what cuts off feelings of love inside.
We have connected having-our-natural-loving-feelings with being-forced-to-give-in. And we see no other alternative. So we stop our feelings from growing organically by manipulating them in a destructive way. This has grave repercussions on our relationships with others. First, we will feel guilty for holding back, and second, we'll lack self-confidence and self-respect. To atone, we'll do more for the other than we would ordinarily do, and as a result, we really are taken advantage of. And since everything we're doing now is lacking in love—it's being done to make up for our withholding—our guilt doesn't go away.
So here we can see, once again, how our wrong conclusions lead to false steps that bring us directly into the very situation we were hoping to avoid. This is called a vicious circle. Any emotion that falls out of a misconception that our real feelings will get us into trouble, will create confusion. These include our guilt, our resentment for our behavior that is now compulsive instead of loving, and our lack of self-respect.
They all work like a wedge in our close relationships. We either end up constantly engaged in negative behaviors, or we withdraw and live in bitter isolation, which in turn breeds frustration. They also make great barriers to the well of wisdom, love and intuition within.
Listen and learn more.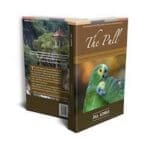 The Pull, Chapter 18: Three Aspects that Prevent Loving
Read Original Pathwork® Lecture: #107 Three Aspects That Prevent Loving