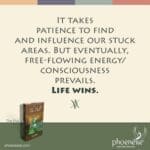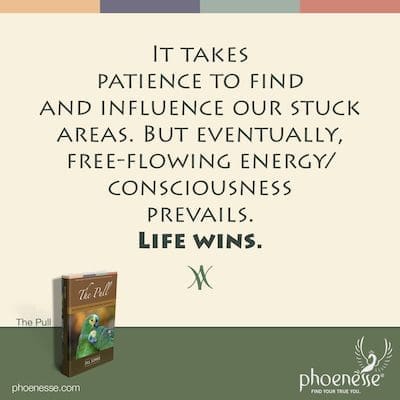 Our soul substance is in constant motion; nothing that is living ever stands still. It moves and moves and moves. Then in comes an error in thinking—a misconception—which breeds negativity which breeds more error. Soul substance that has gotten trapped in error and our negative will becomes temporarily fixed. It grows stagnant.
The challenge is to make that fixedness fluid once more. This stuff that has gotten stuck is made up of a combo of energy and consciousness. No atom on the planet doesn't also contain consciousness. This energy/consciousness cocktail permeates the whole universe. They're not separate entities hanging out side-by-side. They are one. Energy is consciousness and consciousness is energy.
So energy/consciousness now stuck in negative will needs to move again. The fixed substance must become fluid again. It must wake up out of its own stagnation. It needs a tire iron to loosen up the bolts. The awakening, however, needs to happen from within the dormant part, but free flowing energy/consciousness is repulsed by this fixed state. This means it's not easy for fluid energy/consciousness to break up the fixed parts.
As a result, the mind gets lost in its own maze. Somehow, the stagnant energy/consciousness of negative will has to find a way to let go of itself. Until that happens, the soul substance remains stationery. Stuck. The battleship won't budge.
It takes a lot of patience to find and influence our stuck areas of negative will. Yet, if enlightened consciousness and fluid energy didn't act upon our frozen soul substance, it would stay stuck forever. Eventually, free-flowing energy/consciousness prevails. Life wins.
Listen and learn more.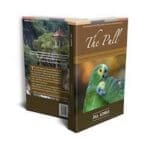 The Pull, Chapter 9: A Venture in Mutuality: Changing our Negative Will
Read Original Pathwork® Lecture: #186 Venture in Mutuality: Healing Force to Change Negative Inner Will